Book An
Appointment
Invisalign Teen
Invisalign Teen, Better Than Braces!
Do you have crooked, gapped, misaligned teeth and do you need orthodontic treatment? Are you considering getting metal braces? Invisalign Teen® offers you the confidence of an awesome smile even while you're straightening your teeth. E Line Orthodontics in Carrollton, TX is proud to offer Invisalign Teen. Feel free to contact our office to set up your initial visit with us!
Invisalign Teen is a comfortable, affordable, and effective braces option!
What exactly is Invisalign Teen?
A clear way to straighten teen's teeth without the use of metal braces.
Series of clear, removable, custom-made aligners.
Uses no metal wires or brackets.
Custom-made for comfort.
Beautiful Smiles. No Sacrifices.
Behind are the times of only having the option of traditional metal braces. Now teens don't have to worry about metal braces in their yearbook photos or Facebook profiles – introducing Invisalign Teen! For today's teens, they don't need to be self-conscious, or uncomfortable through their formative years. Thankfully, straightening their teeth with Invisalign Teen is a lot easier.
Is Invisalign Teen Really As Easy As Its Said To Be?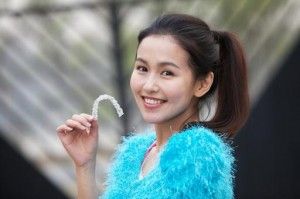 Believe it or not, the answer is, YES!
Wear each set of aligners for about two weeks.
Remove only to eat, drink, brush and floss.
Your teeth will move gradually each week.
Visit us every 6 weeks.
Double check that the teen is indeed wearing their aligners by checking the blue compliance indicators.
Frequently Asked Questions
Are there any restrictions on what I can eat while in treatment?
No, you can eat and drink whatever you want while in treat
ment. Due to the removability of the aligners you're required o remove your aligners to eat and drink.
Can I chew gum as normal while wearing Invisalign aligners?
No, unfortunately the gum will stick to the aligners. We recommend removing your aligners for all meals and snacks.
Will wearing Invisalign be painful?
While Invisalign moves your teeth without the pain and anxiety metal braces can cause, some people experience temporary discomfort for a few days at the beginning of each new stage of treatment. This is normal and is typically described as a feeling of pressure. It's also a sign that Invisalign is working, as it moves your teeth to their final destination. This discomfort typically goes away in a couple of days.